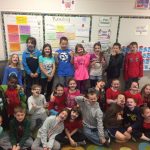 Mark your calendars! A field trip is coming up: With the help of JPO, we are able to take our 3rd graders to the John Ball Zoo on Wednesday, May 31st. This will tie in with our animal research, writing, and work in progress in both STEM and Art classes. A letter will be going home soon requesting $3 per student to cover remaining costs. I will be able to take 5 parent chaperones, without cost as well. If more parents wish to go, those parents will be able to meet us there and pay regular admission to the zoo. Let's hope for great weather! 🙂
This past week we have been working on our animal research during Reading Workshop. We are comparing and contrasting two animals, looking for patterns, and growing big ideas about animals as a whole. Lot's of great thinking has been going on, along with students reaching their reading goals!
In writing, we are continuing to use specific strategies that researchers use to draft our All About books. Soon, we will begin drafting a 2nd All About book on our current animal being researched.
In Science, we have been focused on the adaptations that animals have for survival. We have learned about the different behavioral and physical adaptations animals may have, and how these adaptations are important.
Our math unit has focused on finding area and perimeter of figures. It is easy to mix the two up and forget our "math magical word" of SQUARE in our area answers. When we work backwards and are given the perimeter and have to find the side lengths, or the area and have to find the possible side lengths, that has been tricky too. With further practice and review on Monday, I am hoping we will be prepared for an assessment on Tuesday.
We had an all-school assembly on Friday bringing our Autism Month activities to a close. Next Wednesday morning we have another assembly with Zeke the Wonder Dog from MSU. If students have MSU gear, they are welcome to wear it. Also, don't forget, next Wednesday is our Cool School competition. Get out there and get some ice cream at Front Porch! 🙂 I hope to see you there!
Upcoming Dates:
MSTEP: May 9 (ELA) May 16 & 17 (Math)
Swimming: May 11–12:50-2:00
Jeffers Celebration Day: May 26
Memorial Day: May 29
Zoo field trip: May 31
1/2 Days: June 8th and 9th (9th is the last day of school)